Materials

Certification
ISO 9001:2015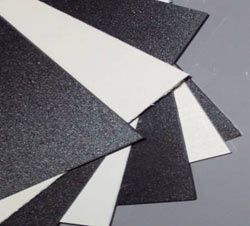 TECANYL
NORYL®, due to its inherent chemical composition, exhibits unusually low moisture absorption. Therefore, good electrical insulating properties are realized over a wide range of humidity and temperature conditions. Chemical attack from water, most salt solutions, acids and bases is also minimal with NORYL®. The addition of glass fiber reinforcement enhances both the mechanical and thermal properties of the basic NORYL® material.
Good electrical insulating properties
Due to its extremely low water absorption with values as low as 0.07%, NORYL® is an excellent electrical insulating material.
Long-term dimensional stability
Superior impact strength
NORYL® has a notched Izod impact strength of 3.5 ft-lbs/in.
NORYL® exhibits a continuous use temperature in excess of 220°F
Wide range of UL flammability ratings from
UL94 HB to UL94 V-1
Light weight
NORYL®, with a density of 0.0383 lbs/in3, can be used in applications where weight is a significant consideration.
Thermoformable capability
Possesses good hydrolytic stability
NORYL® exhibits a broad range of outstanding properties for applications in computers and business equipment, automotive, electrical insulation, telecommunications, appliances, electronics, and many other industries.
Properties
Condition
Value
Test Method
Comment
Mechanical
Modulus of elasticity (tensile test)
@ 73°F
350,000
psi
ASTM D 638
Tensile strength at break
@ 73°F
9,200
psi
ASTM D 638
Elongation at break
@ 73°F
25
%
ASTM D 638
Flexural strength
@ 73°F
13,400
psi
ASTM D 790
Modulus of elasticity (flexural test)
@ 73°F
370,000
psi
ASTM D 790
Impact strength (Izod)
@ 73°F
3.5
ft-lbs/in
ASTM D 256
Rockwell hardness
@ 73°F R Scale
119
ASTM D 785
Coefficient of friction
Static
0.39
ASTM D 3702
Coefficient of friction
Dynamic, 40 psi, 50 fpm
0.32
ASTM D 3702
Thermal
Vicat softening point

310
°F
-
Deflection temperature
@ 66 psi
279
°F
ASTM D 648
Deflection temperature

@ 264 psi

254
°F
ASTM D 648 1)
1) Injection molded sample
Service temperature
Intermittent
230
°F
-
Service temperature

Long term

220
°F
-
Thermal expansion (CLTE)
3.3*105
in/in/°F
ASTM D 696
Electrical
Volume resistivity
@ 73°F
1*1017
Ω*cm
ASTM D 257
Dielectric strength
500
V/mil
ASTM D 149
Dissipation factor
@ 60 Hz, 73°F
0.0007
ASTM D 150 2)
2) Injection molded samples
Dielectric constant
@ 60 Hz, 73°F, 50% RH
2.7
ASTM D 150
Other
Moisture absorption
@ 24 hours, 73°F
0.07
%
ASTM D 570
Flammability (UL94)
V-1
3)
3) thickness greater than 1.5 mm, injection molded samples
Flammability (UL94)
V-0
4)
4) thickness greater than 6 mm, injection molded samples

This information is only to assist and advise you on current technical knowledge and is given without obligation or liability. All trade and patent rights should be observed. All rights reserved. Data obtained from extruded shapes material.
TECANYL ® - Ensinger Industries, Inc.