Materials

Certification
ISO 9001:2015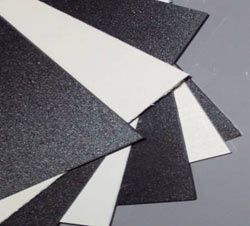 DELRIN® acetal homopolymer
Delrin® sheets are also available in an array of standard stock colors in addition to Natural and Black, requiring no minimum production size or additional lead time.
Learn more: Delrin® Sheet in Standard Colors
Ensinger's Delrin® 150 stock shapes are a homopolymer acetal manufactured using DuPont Delrin 150 Resin. It is a crystalline plastic which offers an excellent balance of properties to bridge the gap between metals and plastics. It possesses high tensile and flexural properties, along with creep resistance and toughness, while exhibiting low moisture absorption, and fatigue endurance.
Properties
Metric
English
Comments
Physical
Specific Gravity
1.42 g/cc
1.42 g/cc
ASTM D792
Water Absorption
0.250 %
@Time 24.0 hour
0.250 %
@Time 24.0 hour
ASTM D570
Water Absorption at Saturation
0.900 %
0.900 %
ASTM D570
Mechanical
Hardness, Rockwell M
94.0
94.0
ASTM D785
Hardness, Rockwell R
120
120
ASTM D785
Tensile Strength, Yield
75.8 MPa
11000 psi
ASTM D638
Elongation at Break
25.0 %
25.0 %
ASTM D638
Tensile Modulus
3.10 GPa
450 ksi
ASTM D638
Flexural Modulus
2.90 GPa
420 ksi
ASTM D790
Flexural Strength
110 MPa
16000 psi
ASTM D790
Compressive Strength
35.9 MPa
5200 psi
ASTM D695
Izod Impact, Unnotched
0.80 J/cm
1.5 ft-lb/in
ASTM D256
Coefficient of Friction, Dynamic
0.200
0.200
40 psi, 50 fpm; ASTM D3702
K (wear) Factor
111 x 10-8 mm/N-M
55.0 x 10-10 in-min/ft-lb-hr
ASTM D3702
Limiting Pressure Velocity
0.0513 MPa-m/sec
1460 psi-ft/min
ASTM D792
Electrical
Volume Resistivity
1.00e+15 ohm-cm
1.00e+15 ohm-cm
ASTM D257
Dielectric Constant
3.70
@Frequency 60.0 Hz
3.70
@Frequency 60.0 Hz
50% RH; ASTM D150
Dielectric Strength
19.7 kV/mm
500 kV/in
ASTM D149
Dissipation Factor
0.00500
@Frequency 60.0 Hz
0.00500
@Frequency 60.0 Hz
ASTM D150
Thermal
CTE, linear
122 µ m/m-°C
68.0 µ in/in-°F
ASTM D696
Melting Point
175 °C
347 °F
ASTM D2133
Maximum Service Temperature, Air
85.0 °C
185 °F
Continuous; UL746B
149°C
300°F
Intermittent
Deflection Temperature at 0.46 MPa (66 psi)
169 °C
336 °F
ASTM D648
Deflection Temperature at 1.8 MPa (264 psi)
125 °C
257 °F
ASTM D648
Flammability, UL94
HB
HB
UL 94