Materials

Certification
ISO 9001:2015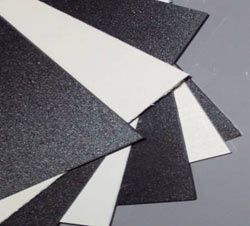 TECAFORM® AD HPV13 - Teflon® powder filled
TECAFORM® HPV13 is a brown homopolymer acetal with an internal PTFE lubricant. Its low coefficient of friction, excellent PV values, toughness, wear resistance, and machinability make it an exceptional material for use in manyindustrial and military components with moving parts. Additionally, TECAFORM® HPV13 has superior chemical resistance and flexural fatigue properties, as well as low moistureabsorption associated with acetal materials.
Lower cost alternative to Delrin AF blend
No stick slip
TECAFORM™ HPV 13 requires less starting torque which provides smooth continuous operation.
Low coefficient of friction
Good dimensional stability
Superior wear resistance
Improved performance, reliability, and longer life result from TECAFORM™ HPV 13's excellent wear resistance.
Good surface hardness and resilience
Superior resistance to repeated impacts and creep
Self-lubricating
The use of TECAFORM™ HPV 13 can eliminate costly lubricants, reduce maintenance costs and product contamination.
Excellent machinability
TECAFORM® HPV 13's range of exceptional properties makes it an ideal engineering plastic for use in precision instruments and measuring devices, as well as in many critical components in the automotive, aviation, military, industrial, food processing machinery, business equipment, and specialty valve areas.
Properties
Condition
Value
Test Method
Mechanical
Modulus of elasticity (tensile test)
@ 73°F
340,000
psi
ASTM D 638
Tensile strength at break
@ 73°F
7,000
psi
ASTM D 638
Elongation at break
@ 73°F
10
%
ASTM D 638
Flexural Strength
@ 73°F
12,500
psi
ASTM D 790
Modulus of Elasticity (flexural test)
@ 73°F
350,000
psi
ASTM D 790
Impact strength (Izod)
@ 73°F
1.0
ft-lbs/in
ASTM D 256
Rockwell hardness
R Scale @ 73°F
118
ASTM D 785
Coefficient of friction
Static
0.07
%
ASTM D 3702
Coefficient of friction
Dynamic, 40 psi, 50 fpm
0.12
%
ASTM D 3702
Wear rate
Against Steel, 40 psi, 50 fpm
20*10-10
in3-min/ft-lbs-hr
ASTM D 3702
Thermal
Melting temperature
347
°F
-
Deflection temperature
@ 264 psi
244
°F
ASTM D 648
Deflection temperature
@ 66 psi
334
°F
ASTM D 648
Service temperature
Long Term
185
°F
-
Thermal expansion (CLTE)
5.1*10-5
in/in/°F
ASTM D 696
<
Other
Limiting PV
@ 100 fpm
1,600
ft-lbs/min
-
Limiting PV
@ 10 fpm
12,000
ft-lbs-min
-
Moisture absorption
@ 24 hrs, 73°F
.11
%
ASTM D 570

This information is only to assist and advise you on current technical knowledge and is given without obligation or liability. All trade and patent rights should be observed. All rights reserved. Data obtained from extruded shapes material.
TECAFORM®HPV 13 – Ensinger Industries, Inc.