Rolls of Plastic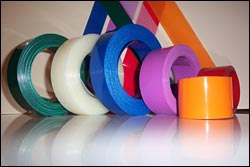 ENSINGER Penn Fibre is the nation's number one manufacturer of thin rolls of nylon, acetal, or other engineering and high performance plastics produced in rolls (coils) of plastic – slit to customer width (strip) requirements and or cut to desired length. Thickness from .010" to .125". Widths from .250" to 24". We stock master rolls of plastic so we can slit and ship most orders in four days or less.
Rolls of Plastic
Nylon rolls, MDS Nylon rolls, Acetal, and Delrin rolls, Delrin AF rolls, polypropylene and polyethylene rolls, PBT rolls, vulcanized Fibre rolls are held in stock as master coils for slitting strips to customers' width requirements.
Rolls of plastic and cut to width strip are regularly produced in Nylon 6, 612, heat stabilized nylon, super tough nylon, nylon 11, 12, Hytrel copolyester elastomer, ABS, PET, Noryl®, Modified PBT's, PSU, Ultem® PEI, PPS, PVDF, ESD Materials and many others are available in strip upon request with minimum production orders
HIPS, PTFE, Fibre, UHMW and Specialty Materials are stocked as plastic rolls and slit to specified widths – as ordered.
Thicknesses range from .010" to .125" Maximum.
Widths from .250" to 24"
16" Cores are standard. 3" and 6" upon request.
Slitting deliveries are generally 4 days or less for the above stocked items based on master plastic roll availability (90%).
Out of stock items – 2 / 3 week deliveries. Three to four weeks for most non-standard items. Average minimum order for non standard strip products is 250 pounds.