Materials

Certification
ISO 9001:2015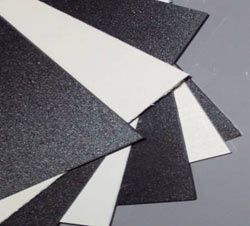 TECAFORM® AH FG Blue (Food Grade Acetal Copolymer)
TECAFORM® FG Blue is Ensinger's new blue colored acetal designed specifically for the food industry. TECAFORM® is resistant to hot water, and typical cleaning chemicals, and it possesses good bearing and wear properties. Its blue color makes it more visible than standard grades. TECAFORM® is commonly used as bushings, rollers, wear strips and other applications requiring a combination of strength, low moisture absorption, chemical resistance and dimensional stability.
No centerline porosity
Low moisture absorption
Excellent machinability
Good combination of mechanical properties
Resistance to food industry cleaning chemicals
TECAFORM® FG BLUE is resistant to aqueous solutions with pH values ranging from 4 to 14.
Good wear and abrasion properties
Good dimensional stability
Good property retention at elevated temperatures
TECAFORM® is used in a wide variety of food industry applications requiring good strength and toughness, dimensional stability, wear resistance and the ability to operate in a wet environment with little absorption. Material handling, filling and bottling equipment are some of the common machines utilizing TECAFORM®'s combination of properties. Typical applications are gears, wear strips, bushings, pump parts, fittings and rollers.
Properties
Condition
Value
Test Method
Comment
Mechanical
Modulus of elasticity (tensile test)
@ 73°F
380,000
psi
ASTM D 638
Tensile strength at yield
@ 73°F
8,800
psi
ASTM D 638
Elongation at break
@ 73°F
25
%
ASTM D 638
Flexural Strength
@ 73°F
11,000
psi
ASTM D 790
Modulus of elasticity (flexural test)
@ 73°F
360,000
psi
ASTM D 790
Compression strength
@ 73°F
4,500
psi
ASTM D 695
Impact strength (Izod)
@ 73°F
1.0
ft-lbs/in
ASTM D 256
Rockwell hardness
M Scale
86
ASTM D 785
Coeffecient of friction
Dynamic, 40 psi, 50 fpm
0.21
%
ASTM D 3702 1)
1) Injection molded data
Wear rate
Against Steel, 40 psi, 50 fpm
65*10-10
in3-min/ft-lbs-hr
ASTM D 3702 1)
Thermal
Melting temperature
329
°F
ASTM D 2133
Deflection temperature
@ 66 psi
316
°F
ASTM D 648
Deflection temperature
@ 264 psi
230
°F
ASTM D 648
Service temperature
Intermittent
285
°F
-
Service temperature
Long term
195
°F
-
Thermal expansion (CLTE)
4.7*10-5
in/in/°F
ASTM D 696
Electrical
Volume resistivity
1.0*1014
Ω*/square
ASTM D 257
Dielectric strength
500
Ω*cm
ASTM D 149
Dielectric loss factor
@ 60 Hz, 73°F
0.001
ASTM D 150
Other
Moisture absorption
@ 24 hrs, 73°F
0.22
%
ASTM D 570
Moisture absorption
@ saturation, 73°F
0.8
%
ASTM D 570
Flammability (UL94)
HB
2)
2) Estimiated

This information is only to assist and advise you on current technical knowledge and is given without obligation or liability. All trade and patent rights should be observed. All rights reserved. Data obtained from extruded shapes material.