Materials

Certification
ISO 9001:2015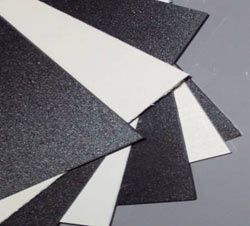 TECAMID 66 MO - Molybdenum Disulfide filled
Nylon is one of the most widely used and versatile thermoplastic resins. Its combination of physical properties versus its price makes it a favorite choice for numerous applications. Nylon has a consistent history of replacing other materials including: metal, brass, bronze, aluminum, and rubber. In replacing metal gears in machinery, nylon can be advantageous because of its ability to reduce noise, use less lubrication and increase gear life. TECAMID™MDS is an extruded "moly" filled nylon 6/6, which is gray in color. The addition of particles of molybdenum disulfide enhances the surface lubricity and wear resistance over unfilled nylon. In applications requiring high lubricity, this material may be a good candidate. In addition to the greater lubricity there are many additional property enhancementsthat occur.
Low surface friction
Increased surface hardness
Increased heat resistance
Higher tensile properties
Improved dimensional stability
TECAMID™MDS has enhanced properties which make it an ideal material to replace metals in machinery. It can increase the life of many moving parts as well as provide a noise reduction benefit and requires less lubrication. A very stable compound with many industrial applications.
Properties
Condition
Value
Test Method
Comment
Mechanical
Modulus of elasticity (tensile test)
@ 73°F
550,000
psi
ASTM D 638
Tensile strength at yield
@ 73°F
12,000
psi
ASTM D 638
Elongation at break
@ 73°F
20
%
ASTM D 638
Flexural Strength
@ 73°F
17,000
psi
ASTM D 790
Modulus of elasticity (flexural test)
@ 73°F
500,000
psi
ASTM D 790
Compression strength
@ 1% strain
1200
%
ASTM D 695
Compression strength
@ 10% strain
14000
%
ASTM D 695
Impact strength (Izod)
@ 73°F
1.2
ft-lbs/in
ASTM D 256
Rockwell hardness
M Scale
87
ASTM D 785
Wear rate
Against Steel, 40 psi, 50 fpm
1.9*10-8
in3-min/ft-lbs-hr
ASTM D 3702
Thermal
Melting temperature
491
°F
-
Deflection temperature

@ 66 psi

470
°F
ASTM D 648
Deflection temperature
@ 264 psi
194
°F
ASTM D 648
Service temperature
Intermittent
355
°F
-
Service temperature

Long term

230
°F
-
Thermal expansion (CLTE)
4.0*10-5
in/in/°F
ASTM D 696 1)
1) Injection molded samples
Specific heat
0.4
BTU/lb-F°
-
Electrical
Volume resistivity
1015
ASTM D 257
Dissipation strength
30
V/mil
ASTM D 149
Dielectric constant
@ 60 Hz, 73 °F, 50% RH
2.5
ASTM D 150
Other
Moisture absoption
@ 24 hrs, 73°F
1.2 - 2.5
%
ASTM D 570
Moisture absorption
@ saturation, 73°F
7.5 - 8.5
%
ASTM D 570
Flammability (UL94)
HB
-

This information is only to assist and advise you on current technical knowledge and is given without obligation or liability. All trade and patent rights should be observed. All rights reserved. Data obtained from extruded shapes material.
TECAMID™ - Ensinger Industries, Inc.