Materials

Certification
ISO 9001:2015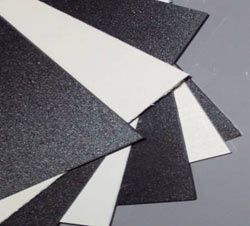 TECAMID 66 GF30 - 30% Glass reinforced
TECAMID™ 6/6 GF30 is a 30% glass-fiberreinforced nylon 6/6 material whose important properties include high tensile and flexural strength, stiffness, excellent heat deflection temperature, and superior abrasion and wear resistance. While all TECAMID™ materials have high mechanical strength and superior resistance to wear and organic chemicals, TECAMID™ 6/6 GF30 has more than double the strength and stiffness of unreinforced nylons and a heat deflection temperature which approaches its melting point.
Superior organic chemical resistance
TECAMID™ nylons are resistant to most organic solvents.
High heat deflection temperature
At 66 psi, TECAMID™ 6/6 GF30 has a HDT of 490®F. Even at 264 psi, the HDT is in excess of 480®F.
Excellent wear resistance
TECAMID™ 6/6 GF30 has a wear rate approaching that of internally lubricated bearing materials. Additionally, the reinforcing glass fibers give this extruded nylon excellent abrasion and cut resistance.
High strength and stiffness
TECAMID™ 6/6 GF30 has a tensile and flexural strength more than double that of unreinforced nylon and a flexural modulus three times higher. These values are equalled or exceeded only by reinforced specialty materials costing many times more.
Very good fatigue endurance
TECAMID™ 6/6 GF30 has been successfully used in gears at high stress levels for many years.
Superior creep resistance
TECAMID™ 6/6 GF30 has an excellent balance of properties which make it an ideal material for metal replacement in applications such as automotive parts, industrial valves, railway tie insulators, and other industry uses whose design requirements include high strength, toughness, and weight reduction.
Properties
Condition
Value
Test Method
Mechanical
Modulus of elasticity (tensile test)
@ 73°F
797,000
psi
ASTM D 638
Tensile strength at yield
@ 73°F
13,000
psi
ASTM D 638
Elongation at break
@ 73°F
14
%
ASTM D 638
Flexural Strength
@ 73°F
19,575
psi
ASTM D 790
Modulus of elasticity (flexural test)
@ 73°F
681,000
psi
ASTM D 790
Compression strength
@ 1% strain
3625
psi
ASTM D 695
Compression strength
@ 10% strain
16300
psi
ASTM D 695
Compression modulus
510,000
psi
ASTM D 695
Impact strength (Izod)
1.8
ft-lbs/in
ASTM D 256
Rockwell hardness
M Scale
88
ASTM D 785
Thermal
Melting temperature
499
°F
-
Service temperature
Intermittent
338
°F
-
Service temperature

Long term

230
°F
-
Thermal expansion (CLTE)
2.7*10-5
in/in/°F
ASTM D 696
Other
Moisture absoption
@ 24 hrs, 73°F
0.25
%
ASTM D 570
Moisture absorption
@ saturation, 73°F
0.30
%
ASTM D 570

This information is only to assist and advise you on current technical knowledge and is given without obligation or liability. All trade and patent rights should be observed. All rights reserved. Data obtained from extruded shapes material.
TECAMID™ - Ensinger Industries, Inc.