Materials

Certification
ISO 9001:2015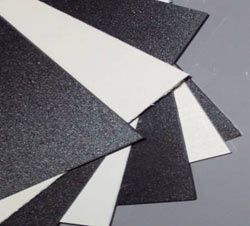 HYDEX 4101
HYDEX™ 4101 is a very stable chemical compound that can withstand high impact without deterioration. HYDEX™ 4101 has excellent resistance to typical cleaning chemicals such as chlorine and caustic solutions and has a very low moisture absorption rate, as much as 15 times less than nylon.
Good chemical resistance properties
High impact strength
A wear factor up to 50% better then PET-P
Very low moisture absorption rate
Excellent machining qualities
No center line porosity
HYDEX® 4101 & 4101L (lubricated) exhibits a broad range of outstanding properties for a variety of applications, especially in the food processing industry. It is ideal for applications such as cams, bearings, gears, food pistons, wear strips, scraper blades, valve bodies and conveyor components.
Properties
Condition
Value
Test Method
Comment
Mechanical
Modulus of elasticity (tensile test)
@ 73°F
425,000
psi
ASTM D 638
Tensile strength
@ 73°F
9,400
psi
ASTM D 638
Elongation at break
@ 73°F
50
%
ASTM D 638
Modulus of elasticity (flexural test)
@ 73°F
420,000
psi
ASTM D 790
Impact strength (Izod)
0.7
ft-lbs/in
ASTM D 256
Coefficient of friction
Static
0.19
1)
1) per LNP EPALP-TB001
Coefficient of friction
Dynamic, 40 psi, 50 fpm
0.25
1)
Wear rate
@2000 PV
210
in3-min/ft-lbs-hr
1)
Thermal
Deflection temperature

@ 264 psi

200
°F
ASTM D 648
Service temperature
Long Term
221
°F
-
Other
Limiting PV
@ 100 fpm
6,000
psi-fpm
2)
2) per LNP EPALP-TB003
Moisture absorption
@ 24 hrs, 73°F
0.07
%
ASTM D 570

This information is only to assist and advise you on current technical knowledge and is given without obligation or liability. All trade and patent rights should be observed. All rights reserved. Data obtained from extruded shapes material.
HYDEX® - Ensinger Industries, Inc.