Materials

Certification
ISO 9001:2015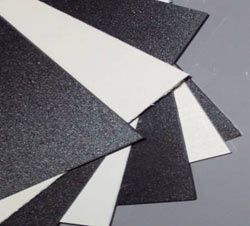 DELRIN® AF blend - Teflon® fiber filled
Ensinger's DELRIN®100AF blend stock shapes are a 13% PTFE fiber filled homopolymer acetal. They offer an improved coefficient of friction, better lubricity, and improved wear characteristics over unfilled and PTFE powder filled acetals.This advanced acetal material uses a combination of PTFE fibers uniformly dispersed in Delrin acetal resin. The combination results in improved wear characteristics along with strength, toughness, dimensional stability and machinability. The materials exceptional wear properties and internal lubrication serves to reduce or elimanate the need for external lubricants. Ensinger can also produce a full strength 20% PTFE filled version.
Excellent wear characteristics
Self lubricating
Low coefficient of friction
Maximum unmodified toughness
Superior load bearing characteristics
DELRIN®100AF is often used for applications such as bearing, bushings, cams and other antifriction devices that also require extra toughness.
Properties
ASTM Test Method
Units
Value
Physical
Density
Specific Gravity
Moisture Absorption @ 24 hrs.
Water Absorption @ Saturation
D792
D792
D570
D570
lbs/in3
-
%
%
0.054
1.50
0.12
?
Mechanical
Tensile Strength @ Yield
D638
psi
7,868
Elongation @ Yield
ISO 257
%
10.3
Tensile Modulus (1mm/min)
D638
ksi
342
Notched Izod Impact
D256
ft.-lb/in
1.0
Rockwell M Hardness
D785
-
77
Thermal
Melting Point
ASTM D 3418
°F
347
Heat Deflection Temperature @ 66 psi
ASTM D 648
°F
334
Heat Deflection Temperature @ 264 psi
ASTM D 648
°F
244
Long Term Service Temperature
-
°F
185
Intermittent Service Temperature
-
°F
300
Flammability
UL94
-
HB
Electrical
This information is only to assist and advise you on current technical knowledge and is given without obligation or liability. All trade and patent rights should be observed. All rights reserved. Data obtained from extruded shapes material. DELRIN® - Registered traemar of DuPont.